Just a tiny text of what happened when Aranesha entered the Caverns of Time.

~~~~~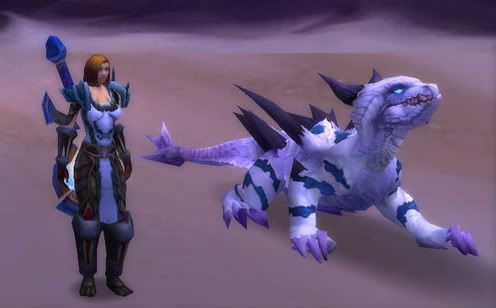 The noise of working goblins, the trembling sound of footsteps at the roof and the whistling sound of the wind blowing through the holes of the little door annoyed her. She tried to sleep a little, awaiting for a word that others were ready to venture forward into the Caverns of Time. She wondered how it would be to see what has happened in the past. She was curious and excited but not aware of the magic the Caverns held.
"We are ready now," she heard one of the druids speaking. Aranesha stood up and readied herself, yet she seemed to forget few little things. Mounting her elekk she rode towards the Cavern as quickly as possible and aided the gnome who had joined them to summon the rest. She made herself to not think about the ritual itself as it was what she greatly despised. Nevertheless, once they all were ready, they ventured inside and flied fast inside to the Caverns mounted on one of the Custodians. As they landed, one said he has not been there before and had to talk with one to know more of the place. Aranesha smiled, and called forth her elekk once again to ride towards one of the wings in the Caverns.
The shock of what happened after entering through the magical portal made her stop for a moment. "What is this magic?!" she yelled, eyeing herself in uncomfortable form of a human. Her eyes widened at the pale pink skin and golden hair she had. "Time do strange things to you in here," she was told. "At the time when Thrall was imprisoned, your kind were not here, thus the illusion is placed upon you so that the Time itself will not be altered in any other way." She nodded to herself, wanting to understand, and without hesitation she rode again to join the others and to free Thrall from his prison.
During one encounter she grumbled when she noticed that she was out of bullets but continued the fight using her axe. She admitted herself being careless and old woman by now, sometimes forgetting the very simple things, but she didn't let that to stop her from fighting.